Torch Series by T-Rex: Overview & Technical Characteristics
T-Rex, a renowned name in the automotive industry, has consistently revolutionized the market with innovative aftermarket car grilles, and the Torch Series is no exception.
The Torch Series, which is one of T-Rex's proudest creations, redefines the aesthetic appeal of any vehicle. T-Rex has fused the aggressive stance of an LED light bar with the sleekness of a polished grille to offer you a distinctive vehicle look. The Torch Series grilles, just like the X-Metal edition, are designed for car enthusiasts who value bold aesthetics, alongside superior functionality.
Technical Characteristics
Construction. Constructed from 304 stainless steel, these grilles stand out for their durability and resistance to rust. The robust metal frame ensures these grilles can withstand even the harshest road conditions.
Design. Boasting an iconic grille design, these components feature high-intensity CREE LED lights, blending functionality with style. They are available in single or double LED light bar versions, satisfying varied aesthetic preferences.
Light Bars. The high-powered LED light bars offer superior illumination, enhancing visibility during nighttime driving or under challenging weather conditions. These light bars emit a powerful, crisp white light that illuminates your path and accentuates the overall look of your vehicle.

What do people say?
We were lucky to get a detailed review of this product from one of our customers, who agreed to share his opinion with our readers. See the honest review below.
As an automotive enthusiast, I recently had the pleasure of upgrading my vehicle with the T-Rex Grilles 6314581 Torch Series Grille with LED Light in Black, and I must say it has been an amazing experience. This rugged X-metal design not only enhances the overall look of my vehicle but also provides excellent functionality.

One of the standout features of this grille is the built-in LED bar, which adds a stylish and powerful lighting element to the front of my vehicle. Whether I'm driving on dark roads or showcasing my vehicle at a car show, the LED lights provide exceptional visibility and give my vehicle a unique and eye-catching appearance.

Installation was a breeze, thanks to the clean design and precise fit of the T-Rex grille. It seamlessly replaces the factory grille and comes with all the necessary components, including a switch and wiring, to ensure a hassle-free installation process. Plus, with a lifetime warranty on the grille structure, I have peace of mind knowing that this product is built to last.

Not only does the T-Rex Grilles 6314581 Torch Series Grille with LED Light enhance the aesthetics of my vehicle, but it also adds a touch of functionality and durability. This grille is a true testament to T-Rex's commitment to quality and customer satisfaction. If you're looking to elevate the style and performance of your vehicle, I highly recommend considering this grille.
Specifications
The Torch Series car grille by T-Rex combines innovative design with high-grade materials and cutting-edge technology to deliver a top-tier aftermarket product for car enthusiasts. Let's dive deeper into the technical specifications and features that make this grille a standout choice.
Material and Construction
Torch Series grilles are made from 304 stainless steel, renowned for its excellent corrosion resistance and durability. This ensures the grille's longevity and ability to withstand a wide range of environmental conditions, from saltwater exposure to extreme temperatures. Additionally, T-Rex utilizes precision laser cut technology to ensure a clean, precise finish and fit.
Design and Appearance
These grilles feature a full-form wire mesh design, which provides not only a distinctive look but also offers better protection for your vehicle's radiator and engine. The stainless steel construction is typically finished in a black powder coat for an aggressive, stealthy appearance, or a polished finish for a sleek, classic look. The grilles come with integrated LED light bars positioned either at the top, bottom, or both, depending on the specific model.
LED Light Bars
The Torch Series grilles are equipped with high-intensity CREE LED light bars that dramatically enhance the car's visibility under low-light conditions. The light bars come in single or double rows, and the number of LEDs can range from six up to 30 or more, depending on the size of the grille. These LED lights offer a color temperature of around 6000K, producing a cool white light that can illuminate the road ahead while adding an aggressive look to your vehicle.
Installation Hardware
The grille kit includes all necessary hardware for installation, including the grille itself, LED light bars, a wiring harness, and a switch. T-Rex makes it easy to install the Torch Series grille with a simple bolt-on process that doesn't require drilling or cutting for most vehicle models.
Dimensions
The exact dimensions of the grille will depend on the make and model of your vehicle, as T-Rex offers custom grilles designed to fit a wide range of cars, trucks, and SUVs. Generally, the grilles are designed to fit the standard location and size of the factory grille, ensuring a perfect fit and easy installation.
To conclude, the Torch Series car grille by T-Rex is a testament to superior craftsmanship, innovative design, and advanced technology. It is a premium aftermarket product that offers improved visibility, enhanced vehicle aesthetics, and robust protection for your car's vital components.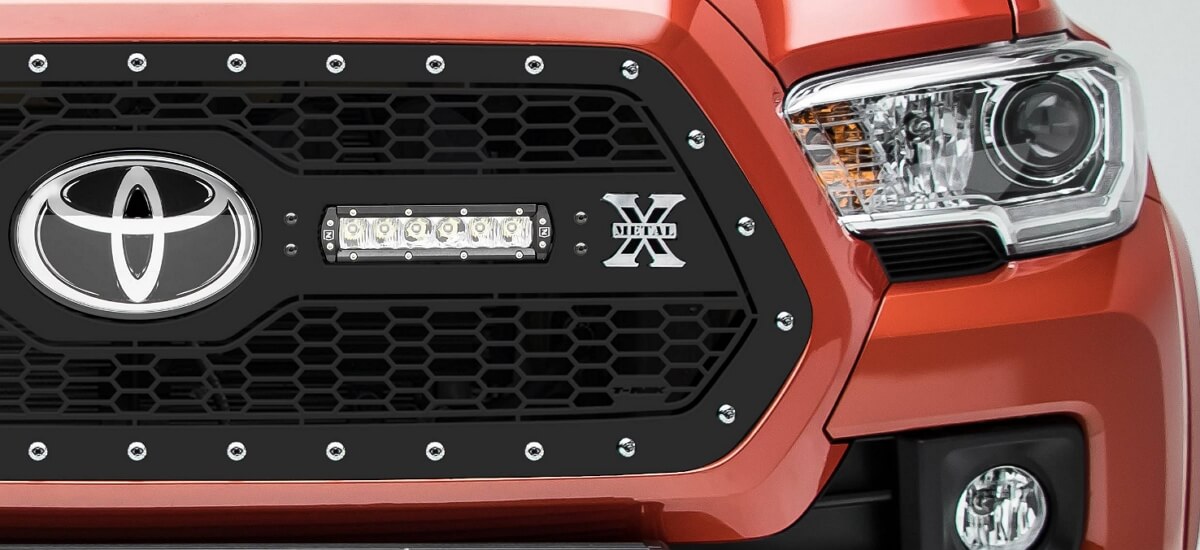 Installation
The Torch Series aftermarket grilles are easy to install. They come with a comprehensive installation guide, detailing a step-by-step process to make the installation process a breeze.
Preparation: Start by removing the stock grille. Ensure you carefully detach any wiring connected to the headlights or indicators.
Installation: Mount your Torch Series grille on the pre-existing grille location using the hardware provided. T-Rex's design is such that it ensures a perfect fit without the need for extensive modifications.
Wiring: The final step is wiring the LED light bars. You will need to connect the wiring harness to your vehicle's electrical system. The guide will provide explicit instructions on how to do this without professional assistance.
Care Instructions
Maintaining the luster of your T-Rex Torch Series grille is straightforward. Wiping the surface with a mild soap solution will prevent dust and debris from accumulating. For a deep clean, use a non-abrasive cleaner and soft cloth to gently rub off any grime or dirt.
In conclusion, the T-Rex Torch Series aftermarket grilles are the epitome of style, performance, and durability. They not only provide an unmatched aesthetic upgrade to your vehicle but also enhance visibility with their high-intensity LED lights. With a straightforward installation process and easy maintenance, this series is a prime choice for any car enthusiast seeking a bold and stunning upgrade for their vehicle.
---
Questions and Answers
What is the Torch Series grille made of?
The Torch Series grille is constructed from 304 stainless steel, a high-quality, corrosion-resistant material known for its durability.
Can I install the Torch Series grille on my own, or do I need a professional?
The Torch Series grille is designed for a simple, bolt-on installation process. It comes with all the necessary hardware and a detailed guide, so you should be able to install it yourself without professional help. However, if you're not comfortable with DIY projects or if your vehicle requires additional modifications, you might want to consider professional installation.
What is the purpose of the LED light bars?
The LED light bars serve two primary purposes. Functionally, they provide extra illumination, enhancing your visibility when driving in low-light conditions. Aesthetically, they contribute to a bold, aggressive look for your vehicle.
Will the grille fit my specific vehicle?
T-Rex manufactures the Torch Series grilles for a wide range of vehicles. However, fitment can vary based on the make and model of your car. Always check the product specifications or consult with a T-Rex representative to ensure the grille will fit your vehicle.
Does the grille come with a warranty?
Yes, the Torch Series grilles come with a warranty. T-Rex provides a limited lifetime structural warranty and a 3-year warranty on the finish.
How do I care for and maintain my Torch Series grille?
The Torch Series grille requires minimal maintenance. You can clean it using a mild soap solution and a soft cloth. Avoid abrasive cleaners to maintain the finish.
Is the wiring for the LED lights complicated?
The Torch Series grille comes with a wiring harness that you connect to your vehicle's electrical system. Although it's relatively straightforward, if you're unfamiliar with automotive electrical systems, you might prefer to have the wiring installed by a professional.
What's the difference between single and double LED light bars?
The primary difference is the amount of light provided. Double LED light bars provide more illumination due to the increased number of LEDs. The choice between single and double depends on your needs and aesthetic preferences.
How does the Torch Series grille improve the look of my vehicle?
The Torch Series grille enhances your vehicle's appearance with its aggressive, full-form wire mesh design and integrated LED light bars. The stainless steel finish adds a sleek, high-end look to your vehicle.
Is the Torch Series grille resistant to rust?
Yes, the 304 stainless steel used in the construction of the Torch Series grille is resistant to rust and corrosion, making it suitable for all-weather use.