Custom Grilles for Ford F-150
Ford F-150 is a purely American pickup truck. It is associated with power, excellent payload capacity, great towing capabilities and, of course, comfort. The carmaker has done its best to create a truck that will perfectly meet the needs and expectations of the American drivers. So if you own an F-150, you know what is the real combination of power, comfort, and convenience.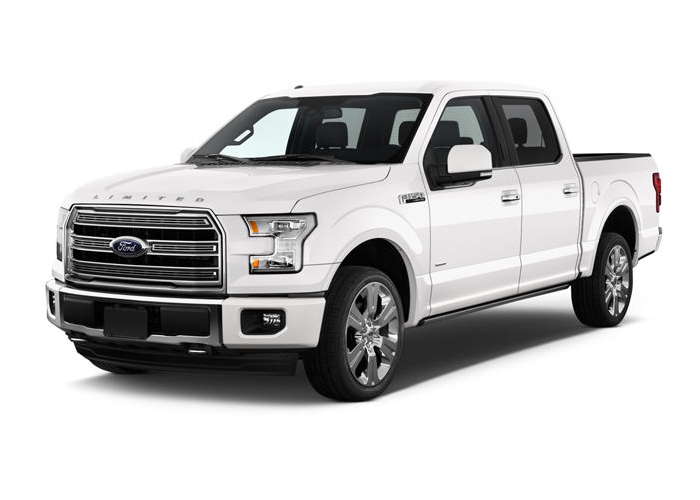 The other thing is, that all F-150 trucks built at the same time look the same. If you want your truck to differ and truly stand out from the rest, you need to customize it. Customization methods differ, as well as the prices for the custom projects. You can start from an inexpensive $50 chrome kit and end up with a fully customized vehicle with thousands invested into it.
If you are looking for the balance and wish to refresh the front fascia of your F-150, here is the list of the best grilles for Ford F-150 available on the market. Note, that grilles differ, both in price and design, so check out details of every product prior to buying one.
Auto Dynasty Diamond Grille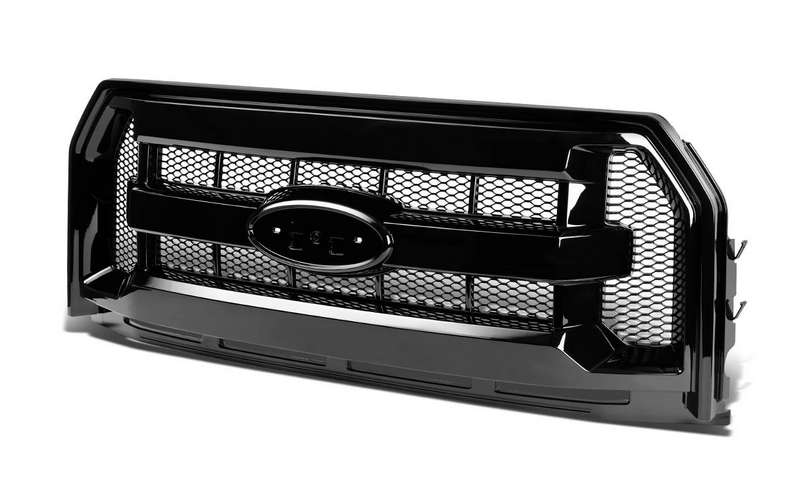 If you've got a feeling, that Ford F-150 needs a more aggressive front fascia that will truly reveal that racy spirit, look no further, than Auto Dynasty Diamond Grille. It is an affordable way to customize your F-150 and add glossy black accent. Here are some features you want to know about this grille before buying one.
Material: reinforced ABS plastic;
Finish: glossy black;
Installation: bolt-on; hardware is not included;
The plastic this grille is made of is thicker than the factory grille plastic;
The metal clips that are included in the package press into the OE brackets.
Keep in mind, that you might want to use some super glue, 3M tape or extra clips to secure this grille in place. Overall, this is a great and affordable upgrade for those, who are into that mean blacked out look.
EAG Wire Mesh Grille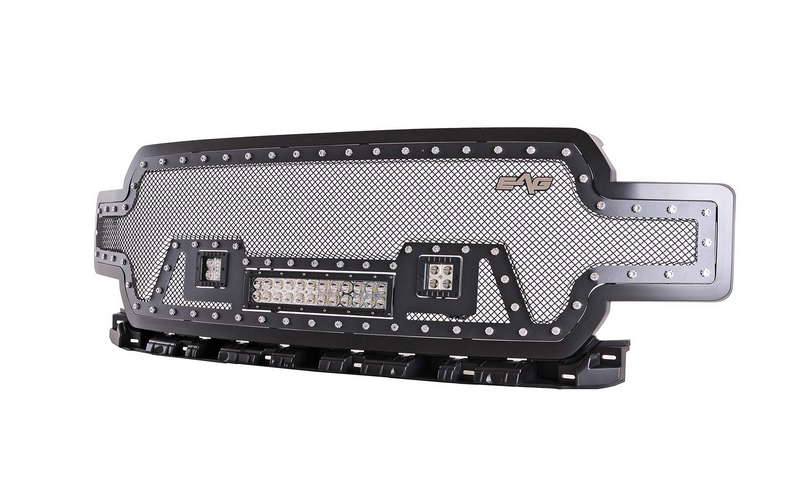 This grille is completely black and is another grille option that will look mean and aggressive. The EAG grille frame replaces the factory frame. The frame is plastic, while the mesh is blacked out stainless steel wire. The grille insert is covered with black powder coating, which makes it resistant to scratches caused by road debris. Besides, the stainless steel wire will not rust or corrode over time. Here are some facts about this EAG grille that you may find helpful.
Materials. Frame: ABS plastic; grille insert: black powder coated stainless steel mesh;
Installation. The grille fully replaces the OE grille. Cutting is not required;
Finish: glossy;
Durability: neither ABS plastic nor stainless steel wire will rust or corrode.
If you are looking for a mean-looking grille with the frame that is easy to install and will not break the bank, this EAG product is the way to go! Some buyers claim, that the installation has taken them only 15 minutes after the stock grille was removed.
OE Style Chrome Grille by New Aftermarket Parts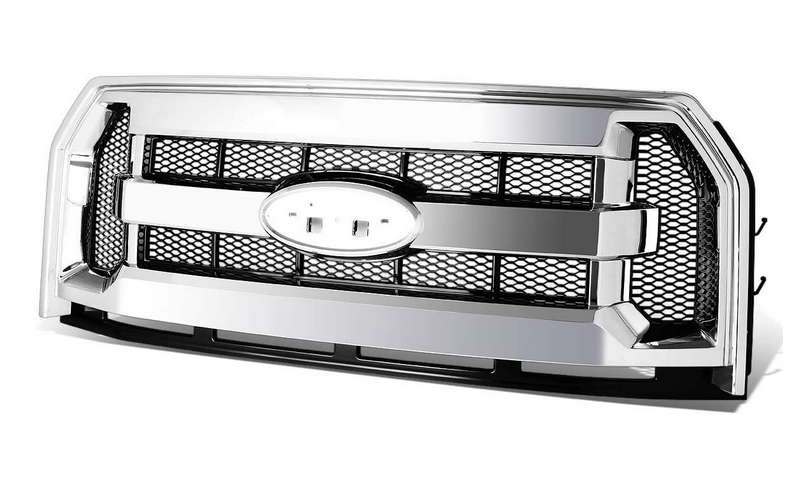 If you are into that factory style, but due to some reason you need to replace your stock grille, you can consider this product by New Aftermarket Parts. There are many reasons to select this one instead of picking a used one from your local junkyard. First, you are getting a brand-new product. Second, the price will not break the bank. And lastly, you are getting a complete grille assembly. The only thing that is not included is the Ford bowtie. You will need to use the factory one, or order the emblem separately. Here are some other facts that you may find useful.
Material. ABS plastic;
Finishes: chrome or black;
Installation: this grille installs exactly like the factory one.
So, if you are looking for a quality and affordable OEM-style grille, pay attention to this one. You will definitely benefit from the combination of price, quality, and genuine OEM design. Note, that you will need to use your factory installation hardware.
APS Billet Grille Inserts for Ford F-150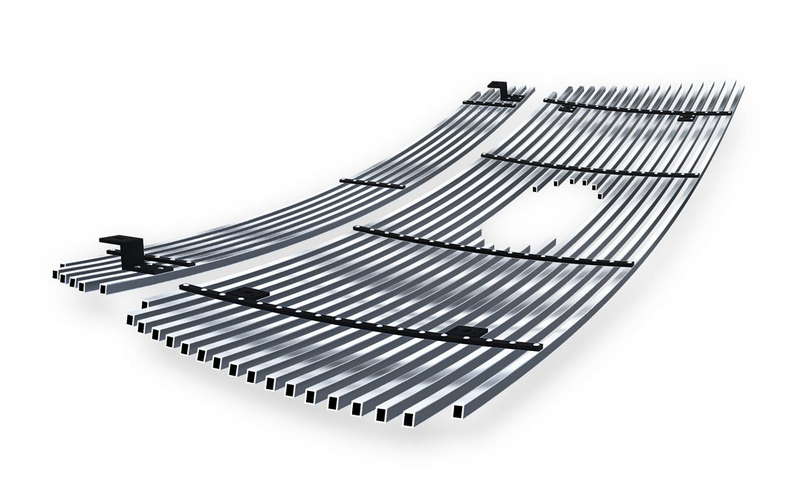 If you feel, that the front fascia of your F-150 truck needs certain refreshments, pay attention to the billet grille inserts by APS. Note, that you are getting only two pieces, and keep the grille frame and Ford emblem you've got on your truck at the moment. These grille inserts are available in polished aluminum and black finish, so you can pick the one that better matches the overall appearance of your F-150. Here are some other things you should know before ordering this grille.
Material: aircraft-grade 6061-T6 aluminum billet;
Finishes: polished aluminum or black powder-coated;
Installation: bolt-on grille insert.
Note, that adding these billet grille inserts will help you refresh the front fascia of your truck. However, this is not the solution if you need a grille replaced after certain damage. When you order this APS product, you are getting 2 billet grille inserts only, as the frame, mounting hardware, and frame are not included.
ZM Auto Parts Mesh Grille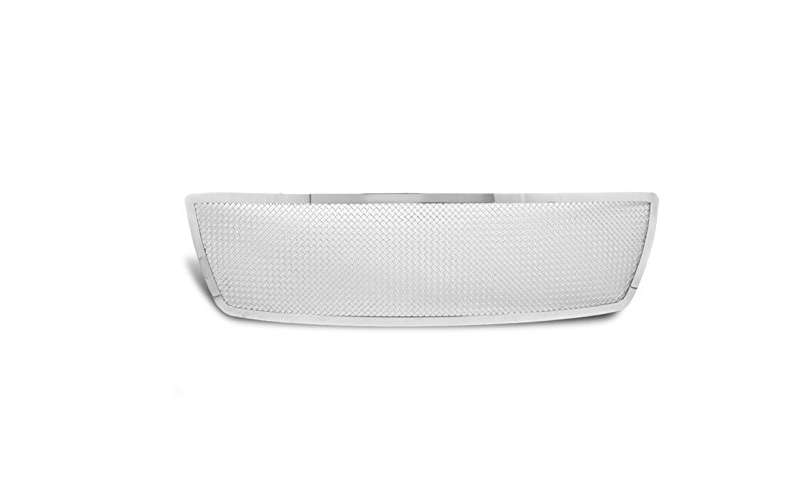 This is an aftermarket mesh grille that will jazz up the exterior of your F-150. The grille is all-black, so it is a great way to add a contrasting piece or blackout your truck. This grille looks solid and elegant due to finely weaved stainless steel mesh. The grille surround is also black with the chrome bolt-like circles on it. Note, that this is a custom grille, that looks and fits very different from the stock grille, so certain cutting is required to make it work. Here are some other things you want to know about this product.
Material: stainless steel mesh;
Finish: black powder coating;
Installation: cutting is required.
Note, that if you do not feel you are skilled enough to get this grille installed, it is better to set up an appointment with your local body shop. In the box, you are getting the grille and instructions. Installation hardware, grille shell, and Ford emblem are not included.